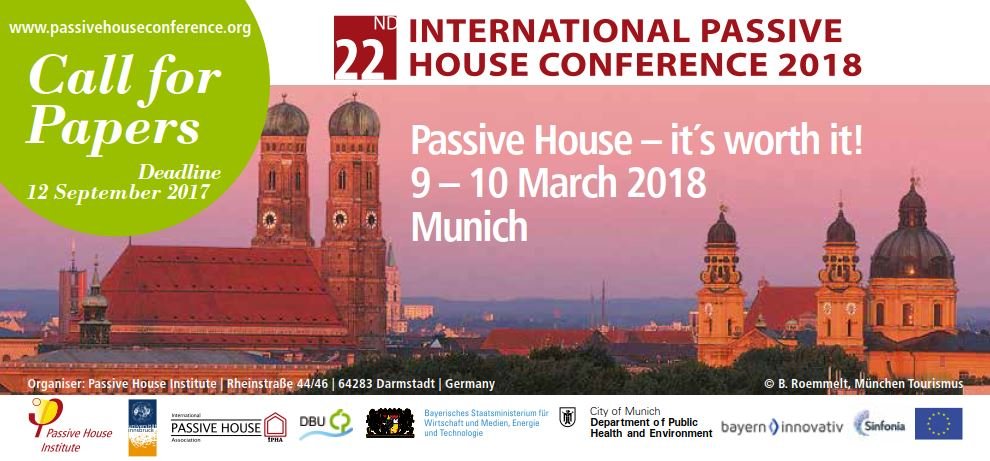 Call for Papers is now closed | Thank you for over 220 abstracts!
We would like to say a huge thank you to everyone who submitted an abstract for 2017 Call for Papers!
In the coming weeks we will be putting together the full conference programme, with the conference advisory board supporting us to choose the presentations for the upcoming conference.
We will inform speakers about the acceptance of their submissions in October.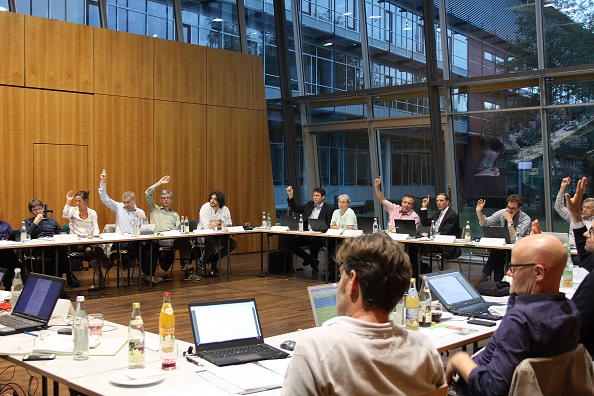 Voting for a great programme at the conference advisory board meeting on 29 September 2017
Passive House - it's worth it! is the slogan of the upcoming conference! The programme will be published in November 2017.
Focus: Compatibility of efficiency and profitability
Profitability: cost-effective projects and concepts
Basis of decision-making for investors / valuation of Passive House buildings
Renewable / sustainable energy supply / PER
Ventilation and indoor air quality
Building envelope: components / trades
Qualification of designers and tradespersons
Climate adaptation: summer comfort
Passive House retrofits
Commissioning / Facility Management / Monitoring
Quality assurance: benefits of certification
Building materials in focus: economics / ecology / embodied energy
Fire and sound protection in Passive House buildings
Tools / Digitization / BIM
Architecture / Aesthetics
Passive House international
---
Conference
advisory
council of the 22nd International Passive House Conference
Norbert Amman, IHK für München und Oberbayern, München | DE
Robert Bartl, Bayern Innovativ GmbH, Nürnberg | DE
Martin Delker, Architekten Limmert + Delker, München | DE
Wolfgang Feist,  Passivhaus Institut, Universität Innsbruck,  Darmstadt/ Innsbruck | DE
Franz Freundorfer, Passivhauskreis Rosenheim Traunstein e.V., Oberaudorf | DE
Bernhard Funk, Bayrische Ingenieurkammer Bau, München | DE
Roland Gräbel, Stadt München - Referat Umwelt und Gesundheit, München | DE
Oliver Heiss, Bayrische Architektenkammer, München | DE
Markus Julian Mayer, Bayrische Architektenkammer, München | DE
Josef Hochhuber, Bayerisches Staatsministerium für Wirtschaft und Medien, Energie und Technologie, München | DE
Andreas Holm, Forschungsinstitut für Wärmeschutz e.V., Gräfelfing | DE
Björn Kierulf, Createrra s.r.o., Senec | SK
Birgit Knoch, energieagence Lëtzebuerg, Luxembourg | LUX
Gerhard Kopeinig, ARCH+MORE ZT GmbH, Velden am Wörthersee | AT
Helmut Krapmeier, Energieinstitut Vorarlberg, Wolfurt | AT
Jens Kuckelkorn, Bayerisches Zentrum für Angewandte Energieforschung (ZAE), Garching | DE
Laszlo Lepp, Passivhaus Institut, Innsbruck | AT
Dirk Mobers, EnergieAgentur.NRW, Wuppertal | DE
Francesco Nesi, ZEPHIR - Passivhaus Italia, Pergine Valsugana | IT
Oliver Ottinger, Passivhaus Institut, Darmstadt | DE
Rainer Pfluger, Universität Innsbruck, Innsbruck | AT
Martin Sambale, eza! - Energie und Umweltzentrum Allgäu, Kempten | DE
Andreas Schablitzki, Hochbauamt - Stadt Frankfurt am Main, Frankfurt am Main | DE
Burkhard Schulze Darup, schulze darup und partner architekten, Berlin/Nürnberg | DE
Jan Steiger, Passivhaus Institut, Darmstadt | DE
Rolf-Peter Strauß, Hochschule Bremen, Bremen | DE
Anke Unverzagt, proKlima - der enercity Fonds, Hannover | DE
Rainer Valentin, vallentin + reichmann.architekten ingenieure energiekonzepte, München | DE
Gernot Valentin, Architektur Werkstatt Vallentin GmbH, München | DE
Micheel Wassouf, ENERGIEHAUS ARQUITECTOS, Barcelona | ES
Matthias Wohlfahrt, proKlima - der enercity Fonds, Hannover | DE
Mark Zimmermann, EMPA, Dübendorf | CH