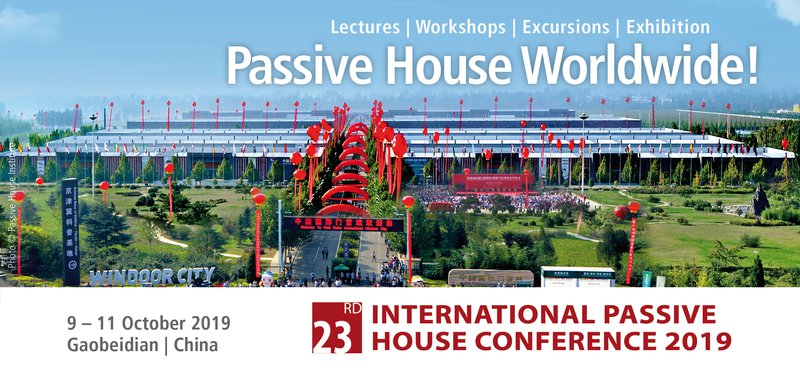 The Call for Papers is now closed.
Thank you for over 300 abstracts!
 
What hap­pens next?

The ad­vis­ory board will meet in Feb­ru­ary 2019 to choose the present­a­tions for the con­fer­en­ce pro­gramme.

The speak­ers will be in­formed in April 2019 wheth­er their ab­stract was ac­cep­ted. Once ac­cep­ted, the speak­ers have to sub­mit their writ­ten con­tri­bu­tion (6 pages) for the con­fer­en­ce pro­ceed­ings by be­gin­ning of May 2019.

Stay tuned!
Pass­ive House: Build­ing a health­i­er,
more com­fort­able and more sus­tain­able world!
Ab­stracts on the fol­low­ing top­ics could be sub­mit­ted un­til 2 Decem­ber 2018:
· Ex­amples of res­id­en­tial build­ings & non-res­id­en­tial build­ings
· Com­mis­sion­ing / fa­cil­ity man­age­ment / mon­it­or­ing
· Vent­il­a­tion / in­door air qual­ity / sum­mer com­fort
· Kit­chen ex­haust in Pass­ive House build­ings
· Air­tight­ness & thermal bridge-free con­struc­tion
· Ret­ro­fit­ting to the Pass­ive House Stand­ard (En­erPHit)
· Tools for suc­cess­ful plan­ning / design (BIM)
· Cost ef­fi­ciency / pro­ject de­cision strategy
· Train­ing de­sign­ers & crafts­men – ca­pa­city build­ing
· Qual­ity as­sur­ance / be­ne­fits of cer­ti­fic­a­tion
· Build­ing en­vel­ope: com­pon­ents
· Re­new­able Primary En­ergy (PER)
· Heat­ing / cool­ing / hot wa­ter
Special offer for speakers:
€210 in­cl. 3 nights hotel ac­com­mod­a­tion in Gaobeidi­an from 8 to 11 Oc­to­ber 2019, shuttle bus to the Win­door Fest­iv­al (con­fer­en­ce ven­ue), ad­mis­sion to the con­fer­en­ce on  9 and 10 Oct. 2019 with drinks, lunches, cof­fee breaks, con­fer­en­ce pro­ceed­ings and ex­cur­sion on 11 Oct. 2019, in­cl. VAT
Sci­en­tif­ic con­fer­en­ce ad­vis­ory board
Bron­wyn Bar­ry, San Fran­cis­co (US) | Ralf Ber­mich, Hei­del­berg (DE)|
El­rond Bur­rell, Ka­pi­ti Coast (NZ) | Shou­kong Chen, Shang­hai (CN) |
Bin­tao Deng, Gao­bei­di­an (CN) | Wolf­gang Feist, Inns­bruck und Darm­stadt (AT, DE)|
Franz Fre­un­dor­fer, Oberau­dorf (DE) | Wolf­gang Frey, Frei­burg im Bre­is­gau (DE)|
Fei Han, Qindao (CN) | Cui­cai Hao, Shijiazhuang (CN) |
Wei He­dong, Gao­bei­di­an (CN)| Jo­sef Hoch­hu­ber, Mu­nich (DE) |
Bert­hold Kauf­mann, Darm­stadt (DE) |Hel­mut Krap­mei­er, Wolfurt (AT) |
Da­wid Mi­chu­lec, Vi­enna (AT) | Dirk Mobers, Wup­per­tal (DE) |
Mi­wa Mo­ri, Ka­na­ga­wa (JP) | Ste­fan Pal­lantz­as, Athens (GR) |
Mon­te Paul­sen, Van­cou­ver (CA) | An­drew Peel, Blue Moun­tains (CA) |
Rai­ner Pflu­ger, Inns­bruck (AT)| Lud­wig Ron­gen, Was­sen­berg (DE) |
Burk­hard Schul­ze Dar­up, Ber­lin (DE) | Si­chen Sheng, Darm­stadt (DE) |
Ye­hao Song, Beijing (CN) | Jan Stei­ger, Darm­stadt (DE) |
Lei Tian, Beijing (CN) | Mi­cha­el Tri­bus, La­na (Bz) (IT) |
Ger­not Val­len­tin, Mu­nich (DE)| Rai­ner Val­len­tin, Dor­fen (DE) |
Mi­cheel Was­souf, Bar­ce­lo­na (ES) | Hu Yi­heng, Beijing (CN) |