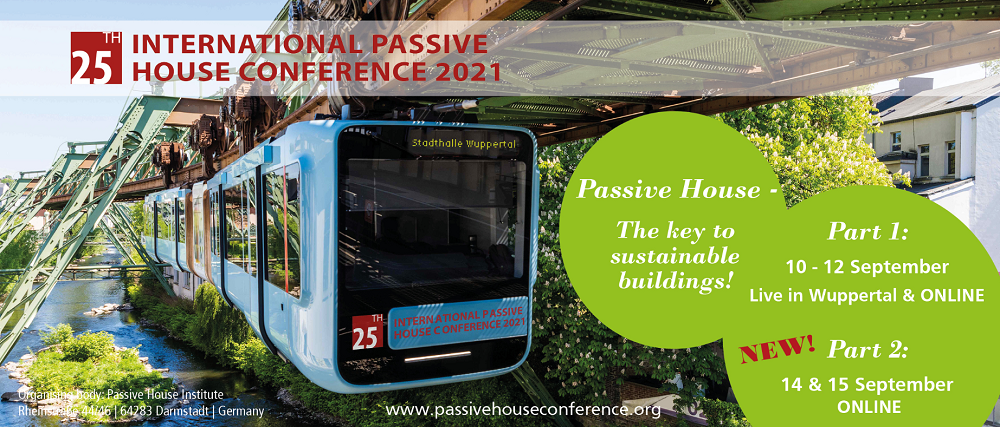 Thank you for your sub­mis­sions!
We re­ceived a num­ber of in­ter­est­ing and ex­cit­ing ab­stracts! The Call for Pa­pers is now closed.
Ab­stracts could be sub­mit­ted on the top­ics be­low. These top­ics of­fer con­nect­ing factors, but the Call for Pa­pers is al­ways open to all con­tri­bu­tions that show how the Pass­ive House de­term­ines and ad­vances as key to sus­tain­ab­le build­ings on our way to a com­mon fu­ture.
Re­gard­less of the pan­dem­ic situ­ation, we would like to give the chance to all speak­ers and par­ti­cipants to take part from around the world and get in touch and ex­change ideas. This year present­a­tions can also be giv­en as video lec­tures.
What hap­pens next?
After we re­ceived this great qual­ity of ab­stracts our Sci­en­tif­ic Ad­vis­ory Board will de­cide on the con­tri­bu­tions sub­mit­ted. At the Ad­vis­ory Board meet­ing, 80 con­tri­bu­tions will be se­lec­ted on the basis of a rank­ing. The speak­ers are ex­pec­ted to be in­formed about the ac­cept­ance of their ab­stracts from April 2021 and the con­fer­en­ce pro­gramme will sub­se­quently be pub­lished on our web­site.
Sci­en­tif­ic Ad­vis­ory Board Mem­bers 2021
Lois Are­na (USA) | Bron­wyn Bar­ry (USA) | An­ja Bier­wirth (DE) |
El­rond Bur­rell (NZ) | Jochen Cies­lok (DE) | Chris­toph Dei­mel (DE) |
Sa­bi­ne Dja­han­schah (DE) | Ann-Ma­rie Fal­lon (UK)  |
Sal­ly God­ber (UK) | Sa­bi­ne Gül­ker (DE) | Mi­cha­el In­gui (USA) |
Tom­my  Kreut­zer Wess­lund (SWE) | Wei Kuang (CN) | Lasz­lo Lepp (AT) |
Ma­thi­as Lin­der (DE) |Dirk Mobers (DE) | Mi­wa Mo­ri (JPN) |
Hart­mut Mur­schall (DE) | An­drew Peel (CA) | Rai­ner Pflu­ger (AT) |
Mar­tin Ploß (AT) | Xu Qi­ang (CN) | Lud­wig Ron­gen (DE) |
Mar­ine Sanc­hez (CA) | Kat­ja Bet­ti­na Schmidt (DE) | Jür­gen Schnie­ders (DE) |
Jens Schu­berth (DE) | Jan Stei­ger (DE) | Bernd Stein­müller (DE) |
Su­san­ne Theu­mer (DE) | Dra­go­mir Tz­a­nev (BGR) | Mi­cheel Was­souf (ES) |
Xu Wei (CN) | Rolf-Egon West­er­hei­de (DE) | Mat­thi­as Wohl­fahrt (DE) | Zhang Xiaol­ing (CN)
We look for­ward to cre­at­ing an in­spir­ing pro­gramme for the up­com­ing 25th In­ter­na­tion­al Pass­ive House Con­fer­en­ce in Wup­per­tal, Ger­many in­clud­ing ad­di­tion­al on­line of­fer­ings.
Top­ics
Pi­on­eer­ing Pass­ive House: Use of eco­lo­gic­al con­struc­tion ma­ter­i­als
En­ergy ef­fi­ciency and re­new­ables? Why not both!
Pass­ive house: A proven path­way to nZEB
Fu­ture-proof and com­fort­able - even in the face of cli­mate change!
Pass­ive house is cool: cool­ing con­cepts in Pass­ive House build­ings
Pass­ive House world­wide: Im­ple­ment­a­tion in emer­ging eco­nom­ies
A healthy way to learn and work: Vent­il­a­tion sys­tems in Pass­ive houses
Pre­fab­ric­a­tion at the highest level: New build and ren­ov­a­tion
It keeps get­ting bet­ter: Us­ing Pass­ive House com­pon­ents
Mul­tiple storeys - max­im­um ef­fi­ciency: Pass­ive House apart­ment build­ings
Chal­lenge ac­cep­ted: En­ergy-ef­fi­cient non-res­id­en­tial build­ings
Live bet­ter in en­ergy ef­fi­cient neigh­bour­hoods
Out of the niche: Com­mu­nic­at­ing Pass­ive House suc­cess­fully
Polit­ics and Pass­ive House: Fund­ing for high en­ergy ef­fi­ciency
The cus­tom­er is king: Pass­ive House from the cli­ent's per­spect­ive
Tools and con­cepts for Pass­ive House im­ple­ment­a­tion
Lifelong Learn­ing: Train­ing and qual­ity as­sur­ance